November 23, 2006
New York, NY
Why do people who live in New York City eat out at restaurants so often? One major reason is often the size of our kitchens. The kitchen in my apartment is about 5' by 7', stuffed with cabinets, a refrigerator, stove, sink, and modest counter space, leaving a floor area of about 5' by 28". Two people can fit in my kitchen, but it's best if they have an intimate relationship before attempting the feat.
So, one of the pleasures of Deirdre's house in the Catskills is the roomy kitchen (although it's probably still pretty small by contemporary suburban standards). As obsessive readers of this blog may recall, I revealed my curiosity about a new technique for baking bread reported in the New York Times. That very same issue of the "Dining In" section also included a vegetarian crepe recipe (with roasted cauliflower, parsnips, and leeks) that intrigued Deirdre. These, we knew, were probably "Roscoe recipes."
Shortly after these articles appeared, our friend Sarah emailed to say she was eager to get out of the big city for the weekend of the 10th, and everything clicked into place. We'd all head to the country and have an "all experimental" dinner based on these two recipes from the Times.
Sarah's been to the house before, but usually to help Deirdre with the garden. This time, we decided to show her around Sullivan County a bit, and on Saturday took her to three of the nicest hamlets in the county. These were Callicoon, Jeffersonville (featured on the TLC reality show Town Haul), and Forestburgh, which has become an artists' mecca of sorts. Here's Sarah (left) and Deirdre at a scenic overlook in Narrowsburgh with the Delaware River in the background.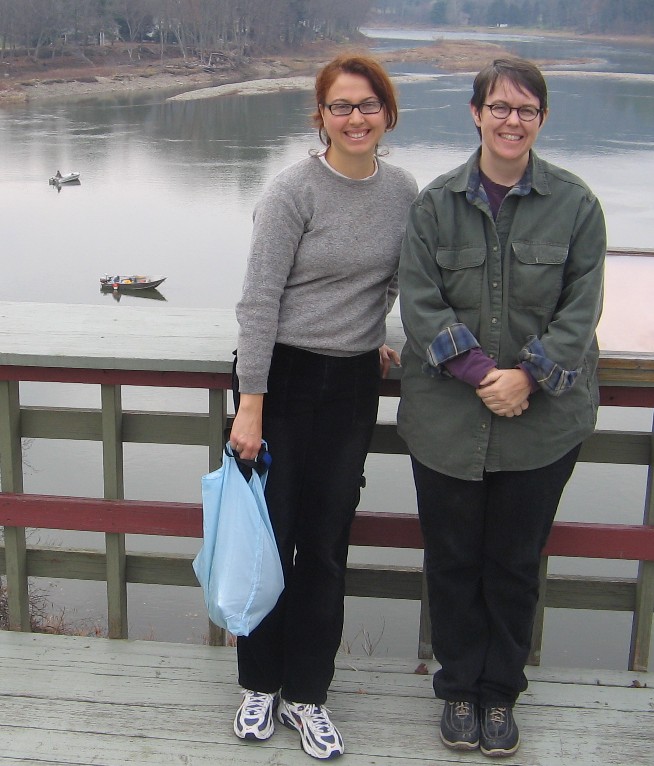 The technique for making bread reported in the Times article involves no kneading, but requires a lot of time. On Friday night at about 8:00 PM, I mixed the flour, salt, yeast, and water and covered the bowl with plastic wrap for Step 1. By about 3:30 PM on Saturday, Step 2 was ready. The dough had risen and I simply folded it over a couple times and covered it with wheat bran and enclosed it in cotton cloths for another couple hours. We used a Le Crueset enameled cast iron Dutch oven for baking the bread, heating it well in the oven before dumping the dough in, pretty much following the directions in the Times to the letter. And here's the final product: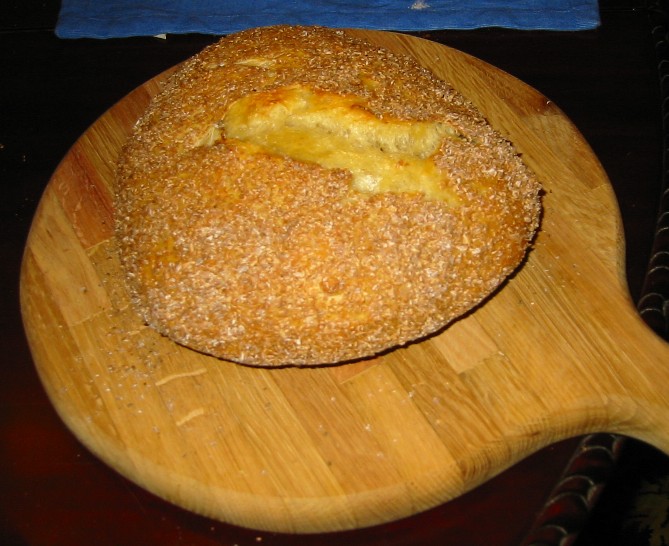 Quite tasty too! Meanwhile, Deirdre and Sarah had roasted the vegetables and started the crepe-making assembly line. Deirdre made the crepes: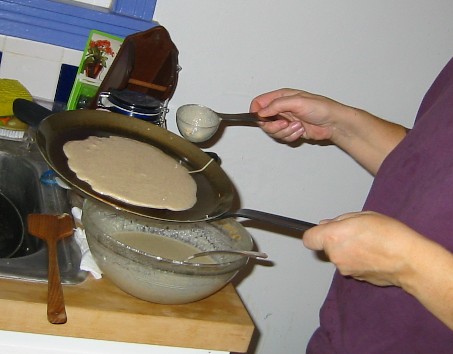 She soon became so adept with the crepe pan that she was able to flip them, just like she does with the omelettes. Sarah rolled the crepes with the roasted-vegetable filling: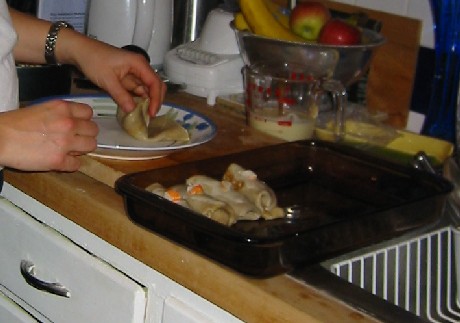 The crepes were than baked a bit more with a cream sauce: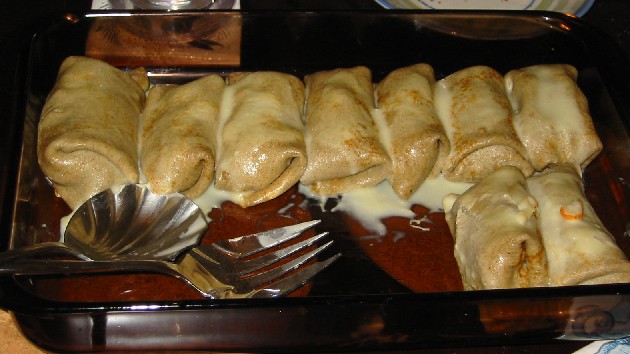 For desert we had a brownie mix that we found in Hannaford's: Nature's Path Organic Hemp Plus Brownie Mix — "with the added benefit of nutty-tasting Omega-rich hemp seeds (these contain no THC)." I'm not sure I'd classify the result as a "brownie" but they were pretty good anyway.
And then, to cap off a near-perfect day, with a fire roaring in the wood-burning stove, we watched a DVD of Chinatown, certainly one of my favorite movies, and pretty much regarded as one of the best movies of the 70s and, hence, of all time. Sarah had never seen it before, and was totally spellbound as this complex tale of intertangled political and personal corruption unfolded, and she yelped appropriately when Roman Polanski applied his switchblade knife to Jack Nicholson's nose.
It's Thanksgiving today, and I should be anticipating turkey, et.al., but there are other dinners and evenings to be thankful for.