April 17, 2010
New York, N.Y.
I couldn't believe the musical howler in Chapter 5 of Dennis Lehane's 2003 novel Shutter Island. It's 1954 and U.S. Marshall Teddy Daniels is investigating an odd disappearance from an isolated insane asylum. When Teddy pays a visit to the home of chief-of-staff Dr. Cawley, Cawley puts a record on a phonograph. Lehane describes the music as "a balm of strings and piano." Teddy's partner asks "Brahms?" Cawley answers, "Mahler."
Huh? A Mahler composition for piano and strings? And exactly what Mahler composition is that, Mr. Lehane?
My well-deserved smackdown was delivered by Martin Scorsese in his film of Shutter Island released in February. In this scene of Scorsese's generally faithful adaptation of the novel, Teddy (Leonardo DiCaprio) already knows that the music is Mahler because he remembers that the same piece was playing in a commandant's office during the liberation of Dachau.
And the music is indeed a Mahler composition for piano and strings! It's the only surviving movement of a Piano Quartet that Mahler composed in 1876 when he was a teenager, and roughly contemperaneous with Brahms' third Piano Quartet. The music is not exactly obscure — ArkivMusic lists 11 recordings — but it's not quite "real" Mahler either. Of course, whether a recording existed in 1945, and whether a Nazi would be listening to the music of a banned Jewish composer is still unclear (but intriguing). What's most important, however, is that the music works great in the scene.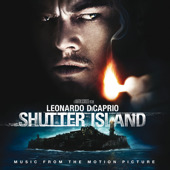 The 10-minute Quartert for Strings and Piano in A Minor by Gustav Mahler is only one of many reasons to invesitage the two-CD Shutter Island soundtrack album. The music of Shutter Island consists almost entirely of often dark-hued music by an amazing collection of post-war composers with none of the usual suspects (Arvo Pärt, Henryk Górecki, Philip Glass), making this one of the most interesting movie soundtrack albums since the heyday of Stanley Kubrick.
Here's a brief overview, roughly arranged by birth year of the composer:
John Cage (1912 – 1992) is one of America's most famous composers, albeit probably more for his writings and reputation than for his actual music. In 1938 — fairly early in his career and before he began experimenting with aleatoric techniques — Cage started inserting objects between the strings of a piano to obtain different sounds, at times resembling percussion instruments and at times a gamelan and other Eastern instruments. His works for "prepared piano" are among Cage's most accessible and delightful compositions, and the Shutter Island soundtrack contains two: Root of an Unfocus (1944) and Music for Marcel Duchamp (1947)
Lou Harrison (1917 – 2003) was a much loved composer who was very much influenced by the gamelan ensembles of Balinese and Javanese music. I am unfamiliar with the nine-movement Suite for Symphonic Strings (1960), but the Nocturne movement included on the Shutter Island soundtrack is simple and moving.
New York composer Morton Feldman (1926 — 1987) is known for soft and quiet music, and, particularly towards the end of his life, very long compositions, including the six-hour Quartet for Strings No. 2 (1983). Perhaps Feldman's most famous work is the 24-minute Rothko Chapel (1971), inspired by a chapel in Houston that contains 14 paintings by Mark Rothko. This is a gorgeous and moving work, and is one of my favorites; the Shutter Island soundtrack includes only an excerpt (one of the five parts) but it gives a good idea of what the complete work is like.
Of all the post-war composers featured on the Shutter Island soundtrack, perhaps the most familiar to movie-going audiences is Romanian-born Hungarian composer György Ligeti (1923 – 2006), four works of whose were used by Stanley Kubrick in 2001. The Shutter Island soundtrack features Lontano (1967), an 11-minute orchestral work that mixes diatonic melodic material with dense and slowly shifting microtonal harmonies.
The name of Nam June Paik (1932 – 2006) is practically synonymous with video art, so I never really thought of him as a composer, and indeed, only one CD of his music is currently available. His Hommage à John Cage (1959) is old-school electronic music, what used to be called musique concrète, created by assembling sounds on tape and then editing, combining, and filtering them.
I was a fan of Polish composer Krzysztof Penderecki (b. 1933) back in my college days, and particularly liked the shear emotional impact of Threnody for the Victims of Hiroshima (1960) written for a battalion of string instruments sometimes playing in high-pitch ear-burning intensity. My reacquintance with Penderecki reveals a composer who apparently mellowed out in later years. He is represented on the Shutter Island soundtrack with a movement from his Symphony No. 3 (1988 – 1995), an extremely accessible and even romantic work.
Ingram Marshall (b. 1942) whose Fog Tropes (1980) is used in the beginning of Shutter Island as the boat approaches the island, and whose Prelude – The Bay shows up later, experimented with electronic music in his early days. His later compositions mix traditional instruments with synthesizers, taped sounds (such as fog horns in Fog Tropes), and non-Western instruments, for very atmospheric and haunting sounds.
American west-coast composer John Adams (b. 1947) is perhaps best known for his operas that turn recent history into American mythology, such as Nixon in China (1987), the extremely controversial Death of Klinghoffer (1991), and his recent masterpiece about J. Robert Oppenheimer and the first A-bomb test at Trinity, Doctor Atomic (2005). Despite it's title, the piece in Shutter Island called Christian Zeal and Activity (1973) is not one of Adams pulsing bombastic works, but an early unusual composition of gently shifting harmonies. The score calls for the performers of the piece to supplement Adams' score with "found objects." The only recording (by Edo de Waart and the San Francisco Symphony) mixes in a another early composition by Adams called Sermon (1976), which is a recording of an evangelical preacher, and the two compositions seem made for each other.
English songwriter and composer Brian Eno (b. 1948) is also in Shutter Island with "Lizard Point" from the Ambient 4: On Land album (1982).
The Shutter Island soundtrack also introduced me to a few composers very new to my experience.
It's not clear how I've never encountered the music of Russian-born composer Alfred Schnittke (1934 –1998). The Shutter Island soundtrack includes one of Schnittke's Four Hymns (1974 – 1979) for cello and other instruments, and I've recently been exploring Schnittke's later works from the 1980s. These "multi-stylistic" compositions are amazing — a combination of raucous energy, deeply felt anquish, and a great feel for orchestral color. I will probably be spending much of the summer catching up on Schnittke.
Nor had I ever heard of German-born composer Max Richter (b. 1966), who is represented on the Shutter Island soundtrack by "On the Nature of Daylight" from The Blue Notebooks album (2004). Richter's albums are sometimes shelved with experimental rock, and indeed his work seems "album oriented" with an assemblage of short compostions, but the more common characteristics of rock — a backbeat, electric guitars, nasally vocals — are pretty much absent. Richter tends to use a spoken voice when he not sticking entirely to traditional instrumentals and electronics. The resultant music is sometimes reminiscent of Arvo Pärt, Philip Glass, and Eno.
The Shutter Island soundtrack also includes a few popular songs of late 40's and early 50's, and concludes with the music played during the credits of the movie — a haunting mix by Robbie Robertson (an old friend of Scorsese's since The Last Waltz days) of Max Richter's "On the Nature of Daylight" with "This Bitter Earth" sung by Dinah Washington.
This album is a great starting point for further explorations of some of the most fascinating composers of the past 75 years.