February 14, 2011
New York, N.Y.
The Pulitzer Prize for Music is a pecular institution. Awarded for "a distinguished musical composition by an American that has had its first performance or recording in the United States during the year," the recipients are usually not household names. Indeed, sometimes they are even obscure to people who make a point of keeping up with the music of living American composers. Because the award can be based solely on a single performance, very often the cited work is not immediately available on a recording, and there's no guarantee it ever will be!
Although the roster of Pulitzer Prize composers includes many familiar names — Aaron Copland, Charles Ives, Virgil Thomson, Samuel Barber (twice), Elliott Carter (twice), George Crumb, Ned Rorem, John Adams — the list also has a few real head-scratchers and some very conspicuous omissions: Where is John Cage? Morton Feldman? Philip Glass?
Sometimes the Pulitzer Prize for Music resembles a "lifetime achievement" award. That seems to be the case with the 2009 award, which went to Steve Reich's Double Sextet, although Reich was composing works 35 years ago that should have been so honored.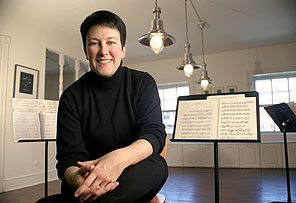 At other times, the award is for a relatively young composer who has recently blossomed. That's certainly the case for Jennifer Higdon, who received the 2010 Pulitzer Prize for Music for her Violin Concerto.
Jennifer Higdon was born on the last day of 1962 in Brooklyn but spent much of her childhood in Atlanta and Tennessee, a background that sometimes shows up in her music. (She still speaks with a southern accent.) She mostly taught herself flute and later studied composition under Ned Rorem and George Crumb. She currently teaches composition at the Curtis Institute of Music.
People eager to apply labels to music tend to dig out the tired "neo-romantic" label for Jennifer Higdon, which I suppose usually means "excessively accessible." You won't mistake her music for that of Brahms or Mahler or Debussy, but Higdon never strays too far from traditional harmonies and often includes some authentic melodies. Early Higdon compositions are characterized by very fast intricate melodic lines played with an exhilarating pace and bravura, and while she can certainly write slow movements as well, her later works often include extremely energetic episodes.
Mostly in Jennifer Higdon's music I hear a sense of sheer open unashamed joy. Perhaps deep down she's really a tormented artist, but if so she hides it very well. In terms of her relationship with harmony, traditional forms, and typically American settings and influences, I've come to think of Higdon as an heir, of sorts, to Aaron Copland.
The earliest of Higdon's compositions available on CD are chamber music that date from the early 90s. As might be expected, the works frequently feature Higdon's own instrment, the flute. For example, rapid*fire (1992), a six-minute flute solo, is undoubtedly as difficult to play as it sounds, full of glissandi and trills, with an unrelenting pace that rarely slackens. The piece ends with bang, or rather, the whip-like crack of a "snap'n pop" thrown to the floor!
Ostensibly, Voices (1993) appears to be a traditional three-movement string quartet, but the first movement ("Blitz") is a furious combination of various string techniques — perhaps some of them inspired by George Crumb. "Soft Enlacing" lets some lyrical passages emerge at a more relaxed pace, seemingly battling the frenzy of the opening movement, and the piece concludes with "Grace," which (for the most part) slows down even more. Continuing the moderate, meditative tempo is Autumn Reflection (1994) for flute and piano, which apparently are indulging in a little leaf peeping. Song (1995) is another flute solo written as a competition piece for high school flute students; it is not a technically difficult piece but has unadorned melodic lines that are Coplandesque in their yearning expressiveness.
The first time I heard it, I didn't care for Short Stories (1995) at all. This is a long piece (six movements and about a 25-minute duration) for an ungainly quartet of saxophones — soprano, tenor switching to soprano for one movement, baritone switching to tenor for that same movement, and alto. You can almost hear Higdon experimenting and trying out different techniques and combinations. But the work has three surprisingly entrancing slow movements, and a faster movement inspired by Stomp (the dance troupe performance) that have certainly grown on me.
I believe that Jennifer Higdon's first work for orchestra was blue cathdral (1999), and how different it sounds from her solo and chamber compositions of this period. Written in memory of her brother, who died of cancer (and whose middle name was Blue), the evocative 11-minute piece begins with spacey sounds but later begins churning with more varied instrumentation, a wonderful rhythmic pulse, and then gets quiet again, with individual instruments posing questions and searching for answers.
Legacy (1999) is another flute and piano work, albeit with a somewhat prepared piano with screws inserted between strings in the high register. The work features long wandering winding lyrical lines for the flute and ends with a wonderful passage for the prepared notes of the piano. Dash (2001) for flute, clarinet, and piano is pretty much a race between the three instruments.
Two orchestral works from 2002 mark the maturing of Higdon's larger scale compositions. City Scape (2002) is a tribute to Atlanta in three movements, capturing the contradictions of the busy city with the more rural surroundings. The second movement ("river sings a song to trees") is particularly appealing with its gentle whispers from which emerge tuneful string passages and a triumphant full orchestra, and this complex eventful movement still has a long ways to go before it gives way to the extremely pleasurable but relatively short third movement rondo.
The very title of Concerto for Orchestra (2002) comes with a lot of baggage. The five movements follow the same pattern as the famous Bartok composition, and the music sometimes sounds rather Bartokian as well. Higdon really shows off her orchestration skills here, particularly in the entrancing central movement where individual instruments get the opportunity to command the stage, the magical percussion-laden fourth movement, and the rollicking finale.
More percussion in featured in Zaka (2003), a made-up word that seems to describe this single-movement work precisely. With flute, clarinet, violin, cello, piano, and percussion, Zaka sometimes sounds almost Partch-like in its other-worldliness, and other unusual instrumental techniques suggest her composition teacher George Crumb. Bouncy rhythms makes this seem like a demented jazz ensemble, yet there are also passages of surprising lyricism. This is one of my favorite of Higdon's chamber pieces, and one that I'd love to see performed.
Impressions (2003) is a four-movement string quartet deliberately patterned after the four-movement quartets of Debussy and Ravel (as the title suggests). The four movements also have painterly titles, and sometimes even quote the earlier string quartets. This is Higdon at her most non-idiosyncratic, and only in the jaunty rhythms of the last movement do we hear a more Higdon-like sound. Piano Trio (2003), one of Higdon's rare works without an evocative title, is a two-movement work for the traditional piano, violin, and cello trio. The two movements have evocative titles, however: The gentle lyricism of "Pale Yellow" also reminded me of Debussy, but of the late chamber music. (That's just about the highest praise I can offer a piece of music!). As the second title suggests, "Fiery Red" indulges in Higdon's characteristic frenzy.
The three-movement string quartet Southern Harmony (2003) is meant to evoke the slow-paced gentleness of the American south, and even includes some traditional Tennesse dance rhythms and Applachian style violin playing. Despite the title, Soliloquy (2004) is a slow duet of sorts for flute and string quartet, with each of the instruments of the string quartet also taking occasional solo roles. Summer Shimmers (2004) for flute, oboe, clarinet, bassoon, horn, and piano, is intended to evoke Higdon's chldhood in Tennessee. It is moody, mostly quiet and sedate, but surprisingly haunting in its simplicity. Despite repeated listenings, I have never been able to warm to Dooryard Bloom (2004) a setting for baritone and orchestra of Walt Whitman's elegy for Lincoln, "When Lilacs Last in the Dooryard Bloom'd." It's a long poem and the 23-minute setting seems labored to me.
The Percussion Concerto (2005) is a real crowd-pleaser, as is evident from the live performance with Colin Currie (percussion) and Marin Alsop conducting the London Philharmonic Orchestra. It is everything a Percussion Concerto should be: loud, rhythmic, sonically weird, and fun. The piece won a Grammy in 2010 for best new composition. The Oboe Concerto (2005) is very different, at least in the only existing recording, in which it's been arranged for oboe and wind ensemble, so it's not quite clear if the original has the same chamber music texture to avoid overwhelming the oboe. From this same period there is also a Trombone Concerto (2005) and a Piano Concerto (2006) that I haven't heard.
Around this time, Jennifer Higdon seems to have begun composing more for the violin, and to have found a real compositional kinship with the instrument, undoubtedly inspired by the skill of two exceptionally talented young violinists — Jennifer Koh and Hilary Hahn, both of whom attended the Curtis Institute of Music. Jennifer Koh commissioned String Poetic (2006) a five-movement work for violin and piano with a fast-slow-slow-fast-fast structure. This is one of my favorite Higdon compositions, lyrical and intense, with a great muted piano sound. The fourth movement (titled "Maze Mechanical") is supposed to be a tribute to minimalism, but Higdon simply can't be repetitive enough to sound like true minimalism!
Also for Jennifer Koh, Higdon composed a more ambitious composition The Singing Rooms (2007) a seven-movement work for violin, chorus, and orchestra based on poems by Jeanne Minahan. This work is full of varying moods, surprising inventive passages, and delightful orchestration, but I don't find the choral writing very interesting. Perhaps it's a little too reverant of the texts. I don't mean that Higdon should go all Ligeti on the vocal parts, but what she's done seems too pedestrian for my tastes.
And that brings us to the winner of the 2010 Pulitzer Prize for Music, the Violin Concerto (2008). The work was commissioned by violinist Hilary Hahn, who has known Jennifer Higdon for many years, having studied 20th century music under her when she attended the Curtis Institute of Music in the 1990's.
The archetypal Violin Concerto has a long first movement full of ponderous thoughts, a slow movement of heart-breaking beauty, and an exhilarating life-affirming final movement. I guess I'm thinking mostly of Brahms' contribution to the genre, but Higdon's qualifies as well. The first movement (with the obscure title "1726" referring to the address of the Curtis Institute) begins with violin harmonics and slow solo passages, gradually joined by the rest of the orchestra and picking up tempo. But then it almost stops and needs to build again, leading into an extraordinary cadenza that itself almost stops, with a lovely protacted fading away.
The second movement is titled "Chaconni" for it consists of several chaconnes, in which the violin dances through the harmonic foundations established by the orchestra. This has a real winding-through-the-wilderness feel, and I love how it ends.
To me, the major flaw in the Violin Concerto is the shortness of the third movement ("Fly Forward") — at barely five minutes about 1/5th the length of the first and second movements combined, and even shorter than the abbreviated last movement of City Scape. I know it's supposed to seem truncated, but a few more minutes couldn't have hurt (except perhaps for the overtaxed violinist)!
Many decades ago, I would have been scornful of a composer of contemporary music who exhibited such a strong old-fashioned commitment to traditional harmonies and the emotional responses possible within those structures. Perhaps I have simply mellowed out, or perhaps I've been persuaded to abandon my prejudices by some exceptional music.
Hilary Hahn will be performing Jennifer Higdon's Violin Concerto tomorrow at Carnegie Hall with the Curtis Symphony Orchestra under the direction of Juanjo Mena.