The long-awaited 6th edition of Programming Windows is scheduled to be published by Microsoft Press in November 2012, but you can purchase the ebook direct from the O'Reilly website today: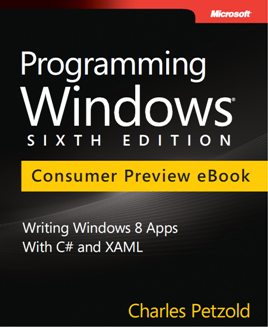 Programming Windows, 6th edition
Why would you want to do that? I can think of three reasons:
1. If you purchase the ebook in November, it will cost $50. If you purchase it today, it costs $10. This $10 price will only be in effect during these last two weeks of May.
2. If you purchase the ebook in November, you'll have to wait until then to get it. If you purchase it now, you can download a preview ebook of nearly 300 pages containing the first 7 chapters of the book today. By purchasing the book and installing the Windows 8 Consumer Preview and Visual Studio, you can be developing Windows 8 Metro style applications this afternoon.
3. If you purchase the ebook today, you'll also be able to download a second preview ebook based on the Release Preview of Windows 8 a couple months from now.
It's a Win-Win-Win situation!