November 25, 2012
New York, NY
Yesterday was Small Business Saturday, a shopping holiday invented a couple years ago by a company that definitely doesn't qualify as a small business. Yet, the concept is quite appealing: Surely for one day a year we can draw specific attention to those small neighborhood stores that we patronize all year round, and we can do so without a mass stampede to find "bargains."
My original concept was that Deirdre and I would celebrate Small Business Saturday by visiting every independent bookstore within a one-mile radius of our home in New York City. (We live several blocks south of 14th Street and a bit east of 5th Avenue, definitely within the rather vague area called Greenwich Villlage, sometimes more specifically called NoHo — that's North of Houston — but which I prefer to describe as "somewhat west of the East Village.")
Moreover, visiting independent bookstores seemed appropriate for Thanksgiving weekend because one of the things I'm thankful for is living in a neighborhood where there still exist so many independent bookstores with distinct personalities, character, and books themselves. Within this one-mile radius of our home are many general bookstores, but also specialty stores: I know of one devoted to chess books, and another to cookbooks.
The ambitious plan of visiting every independent bookstore wtihin a one-mile radius was clearly fanciful, however, and even narrowing down the candidates collided with the reality of walking around on a blustery day in November. We began the day at 10:00 AM with great ambition and excitement — even on a Saturday in New York City, most bookstores don't open before 10:00 AM — but by 4:45 PM we were tired after visiting only sixteen bookstores (many of them considerably within the one-mile radius criterion), and we decided to call it a day.
But what a day! I have always loved bookstores, and I still get a thrill browsing shelves and running my fingers over the spines, each book promising a portal into a sliver of reality, or history, or someone's extraordinary mind. I particularly like the serendipity of finding a book you never knew existed but which you now desire to read. (I can still remember going to a used-book store with my mother when I was 11 or thereabouts, and discovering that a whole shelf of books had been published earlier in the century about Tom Swift Jr.'s father! The books I bought that day are still in my mother's house.)
Bookstore hopping is something I've been doing since my high school days. Years before I actually lived in my neighborhood, I would take the bus from New Jersey into New York City and explore the used-book stores that constituted the famous Book Row on 4th Avenue. Although long past its heyday, much of Book Row still existed in the late 1960s, and I can still visualize some of the interiors of these stores.
By the time I moved to the neighborhood in 1975, Book Row had disappeared entirely but bookstores still abounded. I was thrilled to find an apartment within easy distance of three of my favorites — the Strand, a wonderful Brentano's on 8th Street and University, and Eli Wilentz's Eighth Street Bookshop (the latter two of which are now long gone) — and I've never considered moving elsewhere.
Our first stop yesterday was to this very same Strand Bookstore. This is the only store still left from Book Row, although long ago it moved a block west to the corner of Broadway and 12th Street. The Strand is one of the largest used-book stores in the world, with four floors (the top one reserved for rare books) with an inventory supplemented by quality remainders and reviewer's copies of recent books.
The Strand is great for browsing specific areas, whether you're interested in South American history, gender studies, or the stage. (In recent years, the Strand web site has also been handy for checking if they have a copy of a particular book before visiting the store.) I particularly like the big sections in the basement on science, math, and literary non-fiction. That's where I found A Woman of Contradictions: The Life of George Eliot by Ian Taylor. (I've recently been reading Daniel Deronda aloud to Deirdre, and George Eliot is one of my favorite 19th century personages.) Deirdre picked up Esmeralda Santiago's The Turkish Lover for a class she attends at Barnard on women's memoirs.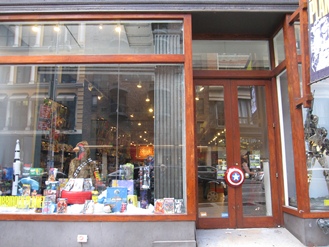 Just a few steps north of the Strand is the new location of Forbidden Planet. This collection of comics, graphic novels, science fiction, action figures, and robot toys is not exactly my thing, but Deirdre picked up a copy of Kindred by Octavia E. Butler, a science fiction author in whome she's recently become interested.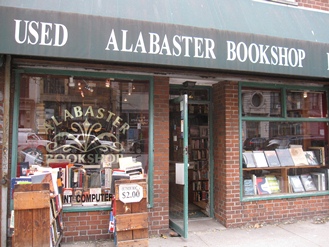 About 15 years ago when Alabaster Bookshop opened on 4th Avenue between 12th and 13th Streets, some people thought it might spark a renaissance of Book Row. That hasn't happened, but the bookstore is still around. It's cramped and cluttered, particularly when you arrive so early that the bins normally out on the sidewalk haven't yet been moved out of the aisles. The fiction section is worth going through, and there's a nice science section tucked in the corner. It was there I found a book I'd never seen before, Bright Paradise: Victorian Science Travellers by Peter Raby, and Deirdre bought Historic Speeches of African Americans introduced and selected by Warren J. Halliburton.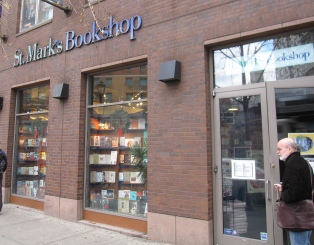 For new books and paperbacks, I'm a big fan of St. Mark's Bookshop. To me it's the epitome of a Greenwich Village bookstore. The shelves contain an exquisite obviously hand-picked inventory and the shop is run by literate salespersons.
St. Mark's Bookshop started out on St. Marks Place when it opened 35 years ago but it moved to that weird corner that connects 3rd Avenue and Stuyvesant Street — the only street that still exists from the plot of land owned by Peter Stuyvesant where streets were oriented to the compass points rather than 29° off. Not too long ago, the store had a problem with a rent increase and almost closed forever, but the neighborhood rallied and the store seems to be in good shape. I want the store to be there as long as I am, so I shop there whenever possible.
Just as in the old store, on entering you'll see a circular display of strange and interesting art and photography books arranged for easy perusal. Deirdre enjoys the nice collection of literary magazines, and the new hardcover non-fiction is a favorite place for me to browse. That's where I found a book I had never seen before, a history of two early women authors of popular science books, Seduced by Logic: Émilie Du Châtelet, Mary Somerville, and the Newtonian Revolution by Robyn Arianrhod. Deirdre picked up a recent paperback of a favorite author of crime novels, Lawrence Block's Getting Off, writing as Jill Emerson.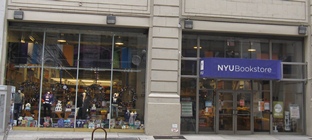 New York University is a big presence in my neighborhood, and even though the NYU Bookstore probably doesn't qualify as an independent bookstore, this new location on the long stretch of Broadway between Astor Place and East 4th Street is wonderful. They have a good solid selection of literature, history, and philosophy, as well as sweatshirts and other NYU paraphenalia.
In the back is a large area for current textbooks for NYU students, and it's always fun to see what the kids should be reading for their classes, and maybe even pick up a textbook purely for recreational use. We were on a mission and had no time to explore the textbooks, but I got a 50th anniversary paperback reissue of J.G. Ballard's prophetic novel of melting ice caps, The Drowned World.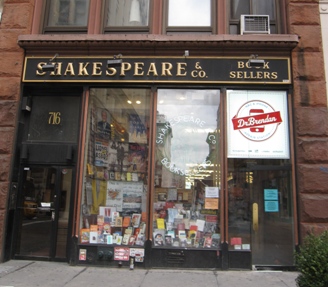 Just a little further south on Broadway is my second choice (after St. Mark's) for current books, Shakespeare & Co. The branch up near Columbia University closed some years ago as one of the first significant casualties of the monolithic bookstores that dominate New York City just as much as other places, but this one has survived.
The folks at Shakespeare & Co. have mastered the art of displaying books on tables, with various levels and stacks and arrangements, with the top book displayed at a convenient and grabbable angle. Within minutes you can scan what's new and hot in fiction and non-fiction, and then head towards the back of the store for similar tabletops devoted to film and other topics. Don't forget to check out the downstairs for a nice collection of plays.
I had never seen Peter Ackroyd's recent London Under: The Secret History Beneath the Streets, but I just had to have it.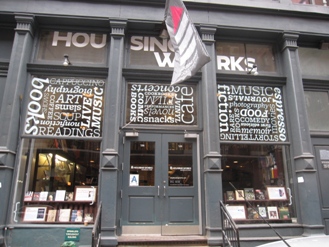 The Housing Works Bookstore Cafe on Crosby Street just south of Houston is hard to find without a map, but it's a definite stop for any bookstore-hopping tour in the area. Housing Works is a non-profit organization founded by four members of ACT UP to help raise money to fight AIDS and homelessness, and this bookstore is part of a network of thrift stores. All books, records, and CDs in the store have been donated, sometimes following the death of a loved one.
It's a gorgeous space with curved staircases up to a balcony area, and the find of the day for me came from this store: For $15 I took home Talk Stories, a collection of Lillian Ross's anonymous pieces for "The Talk of the Town" in The New Yorker, published in 1966 with an inscription from the author, "To Steve, with warmest regards — Lillian Ross."

To New Yorkers, McNally Jackson (on Prince between Lafayette and Mulberry) is just a large friendly store that sells new books and paperbacks. We New Yorkers have no idea of the bookstore's connection with the McNally Robinson Booksellers chain in Canada.
The store has a cafe on the first floor, and a large area for kids' books downstairs, and while there's nothing wrong with a store being kid-friendly, on this particular day it was perhaps a little too kid friendly, if you know what I mean.
I should have come a little more prepared to take advantage of their print-on-demand machine, where you can see your book printed and assembled as you wait. But we were pacing ourselves at this point and left the store without any purchases.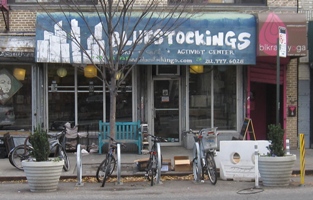 Plus, we were on our way to one of the real treasures of the downtown book scene, Bluestockings, on Allen just south of Stanton. With shelves devoted to various political movements and activist concerns, small presses and poetry chapbooks, you'll find books here that barely even exist outside this store. Readings and open mic events are also frequent, and Deirdre has read her work there a couple times.
I couldn't resist a tiny Shambala Pocket Classics of The Pocket Emily Dickinson sitting near the register, while Deirdre got Beautiful Wreck: Sex, Lives, and Suicide by Stephanie Schroeder (who she knows) and Prophets of Protest: Reconsidering the History of American Abolitionism edited by Timothy Patrick McCarthy and John Stauffer. Of course, Deirdre got into a discussion with a guy behind the counter who was familiar with the latter book, and Deirdre told him about the research she's been doing about the tumultous founding of the New York Anti-Slavery Society in 1835 in her hometown of Utica, and she was asked to do a presentation at the store, so we'll be going back soon I hope.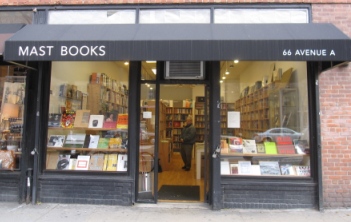 Mast on Avenue A between 4th and 5th Streets has been around for just a few years, but most of the time I've been in the neighborhood it's been closed. It was open on Small Business Saturday, however, so we had a chance to explore this excessively neat and surprisingly upscale store, rather incongrously so considering the location. It seemed to specialize in art and architecture and early editions of English translations of French and German literature, with some first editions locked away in cabinets. We came out with a surprising well-aged paperback of the complete plays of William Congreve, a Mermaid Dramabook published in 1956.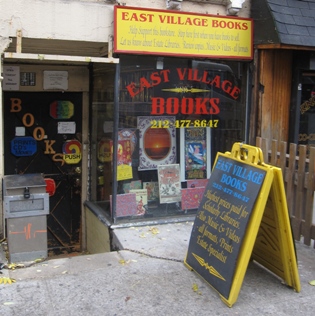 Perhaps the archetypal East Village used-book store is the appropriately named East Village Books on St. Marks Place between A and 1st, a narrow but long store that extends back quite a distance, including a chilly garden area. I enjoy the math and science sections there, where a battered used copy of Code has resided for years.
Many of the other non-fiction shelves exist in a state of pure chaos, with many wildly varied subjects shockingly cozying up to each other. The best thing to do is just park yourself at a shelf and scan. Deirdre managed to locate a Black History section, however, and found Black Protest: History, Documents, and Analyses, 1619 to the Present edited by Joanne Grant.
It was time to head west of Broadway, and the first stop was Mercer Street Books on Mercer Street just south of Bleecker. It's a small cluttered store of used books, but well organized, and I always seem to find something of value in the European History section. This time it was The Victorian Revolution: Government and Society in Victoria's Britain edited by Peter Stansky, and H. R. Trevor-Roper's The European Witch-Craze of the Sixteenth and Seventeenth Centuries, and Other Essays. Deirdre found Ante-Bellum Reform edited by Daviod Brion Davis.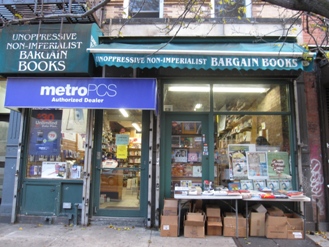 Yes, this place is really called Unoppressive Non-Imperialist Bargain Books, but it's not as political as you might imagine. On Carmine Street a little south of Bleecker, the store carries mostly discount remainders and publisher overstocks, including a weirdly extensive collection of Aldous Huxley. If you want to buy the big volumes of Huxley's collected essays at under $10 a pop, this is the place to come.
The table sitting out front on the sidewalk is often enticing. I can't remember how many times I've walked by this place and been snagged by something sitting there. This day I came away with a recent Dover republication of a 1909 edition of Charles Kingsley's The Water Babies with color illustrations by Warwick Goble.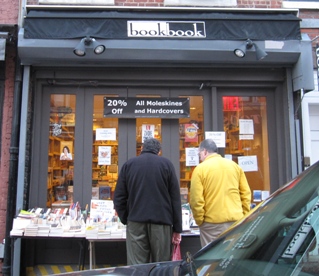 I had never been in bookbook before, on Bleecker between Cornelia and Morton. They sell new books and remainders, but the store has the cluttered look and feel of a used-book store (in a good way) and we got into a rather extensive discussion with the young ladies behind the counter about the best way to ask a customer if they want a bag to guarantee a No answer.
I picked up a half-price paperback of David Foster Wallace's Brief Interviews with Hideous Men.
We had never been to Left Bank Books on 8th Avenue between 12th Street and Jane either. It's a small store, perhaps more properly deserving of the label "antiquarian" rather than "used" with many books behind locked cabinets. Sitting on a rack outside the store, however, was an inexpensive copy of South American Mythology by Harold Osborne that Deirdre bought.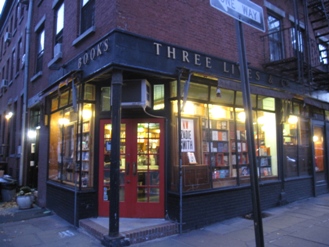 Three Lives Books on the corner of 10th and Waverly is an old favorite for new books and paperbacks, but I always mistakenly refer to it as "Nine Lives," perhaps believing that it's named after a brand of cat food rather than Gertrude Stein's first book.
Walking past the store, we always stop and look at the books displayed in the windows, and more often than not decide to go inside. The store is small but efficiently organized, with a nice arrangement of new releases near the door, and some special books plucked out to adorn the register. This is where I spotted 100 Diagrams that Changed the World by Scott Christianson, and just a few glances inside convinced me that I simply could not live without this book.
By the time we left Three Lives, we were punchy and tired, and it was time to go home. Maybe next year we'll try hitting a few stores that we missed this time around.
Although Small Business Saturday was invented by a credit card company, we used cash for all our purchases. It's my understanding that small retail stores prefer cash because they don't have to fork over any of the money to the company that's interposed themselves in the transaction.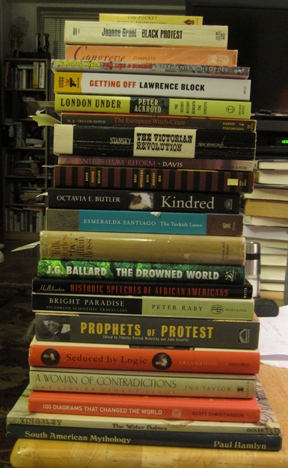 I hope the various stores we visited (and many others) had an experience of Small Business Saturday that was as pleasurable and as profitable as our own!