December 13, 2010
New York, N.Y.
Almost seven years ago, before we were married, my wife Deirdre bought a little house in a rural and scenic area of New York State known as the Catskills. During summers, and sometimes winters, and many weekends, we are part-time residents of a tiny hamlet in the northwest corner of Sullivan County, about a two-hour drive from our regular home in New York City.
Soon after Deirdre bought the house, Hamish & Henry Booksellers opened in the neighboring hamlet. It's a classic small-town independent bookstore, owned and run by Sue and Jeff, and named after two of their cats. I blogged about the bookstore with a photo of their billboard four years ago. Here's the more recent billboard that you can see while driving west beyond Liberty on Route 17: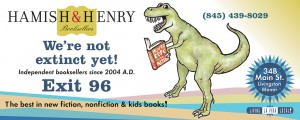 Hamish & Henry is not the only bookstore in Sullivan County. A Literacy Center in Monticello sells donated books to raise money. But Hamish & Henry is the only seller of new books in Sullivan County, and certainly the only bookstore that is so firmly imprinted with its owners' personalities. Sue is always up-to-date on the latest novels, and I recently discovered that Jeff had ordered a book and put it on the shelves knowing that I would be helpless to resist it!
From almost the beginning, Hamish & Henry became the center of the Sullivan County literary world, and an extremely important part of our social life. Through Hamish & Henry we met several other area writers — such as Ian Williams, the author of Rum: A Social and Sociable History of the Real Spirit of 1776 and Nina Burleigh, most recently the author of Unholy Business: A True Tale of Faith, Greed and Forgery in the Holy Land. The bookstore frequently hosted readings and signings. Recent author appearances have included Mark Jacobson, author of The Lampshade: A Holocaust Detective Story from Buchenwald to New Orleans.
One summer Deirdre started a series of "open mic" readings at Hamish & Henry, attracting area poets and memoirists, and we've also been participating in the bookstore's WonkyTonk book group, featuring not novels but works of non-fiction, often politically tinged, including histories such as Isabel Wilkerson's The Warmth of Other Suns: The Epic Story of America's Great Migration and biographies like Jennifer Burns' Goddess of the Market: Ayn Rand and the American Right
It is hard to imagine Sullivan County without Hamish & Henry, yet we must. As a result of steadily declining sales, Hamish & Henry will be closing its doors in March. The problem is partially due to the Bush recession, but obviously the long-term issue is the increasing popularity of ebook readers and a corresponding distribution mechanism that bypasses the traditional brick-and-mortar bookstore.
No one can be surprised at this development, least of all Sue and Jeff, who have owned their share of Kindles and iPads. Nor is there anyone specifically to blame. The eliimination of bookstores is a result of the fabled Invisible Hand of economics. The problem is — the Invisible Hand doesn't always do what's right or what's beneficial. The Invisible Hand is sometimes a slap in the face.
Almost everyone who loves books also loves bookstores. We know the pleasures of browsing shelves, of fingering the volumes, of reading a paragraph or a page or much more. We have experienced book serendipity — the discovery of an author we'd never heard of, or an unfamiliar book by a familiar author, or a title that suddenly seems like the most interesting subject on earth. We chat with the owners and the workers, and we soak up the culture of the written word.
But all of this doesn't matter if purchasing an electronic edition of a book is easier and cheaper than going to the bookstore, and that has certainly happened. Add a little more convenience — for example, I have recently enjoyed comfortably reading a book on the sharp display of my Windows Phone, which I can carry around in my pocket — and the Invisible Hand sweeps bookstores into a mass grave.
But what takes the place of the bookstore? Do we now gather around a public Nook to talk about books? Do we meet in the nearby pizza parlor for public readings? Do we now leave it to Amazon to recommend what books we must read rather than chatting with other human beings?
If only the Invisible Hand could talk! If only it could tell us how to replace what it has destroyed!