December 16, 2010
New York, N.Y.
My father was a troubleshooter. If a machine wasn't working right, he could analyze what the problem was and figure out ways to fix it. The skill is very similar to debugging, except with machines rather than software.
My father Lawrence Petzold was born in 1925 as a child of the great wave of immigration in the early 20th century. His father, also Lawrence Petzold, was born in Germany and came to the U.S. as an infant. His mother, Loretta Clarke, was born in the U.S. to parents who had recently arrived from Ireland. My father grew up in Queens, a borough of New York City, and he preferred to be called Larry.
In 1942, in the middle of the second world war, my father turned 17 years old and could enlist in the military without parental approval. He first tried enlisting in the Air Force and discovered that he was colorblind. He went into the Navy instead and served in the South Pacific. I have a souvenir painted coconut that he brought home from Guam.
After the war, his first cousin and childhood friend Bill Diehl persuaded my father that they should go to college together on the G.I. Bill — the government program passed in 1944 to provide free college (and other benefits) for returning veterans. They went to the University of Missouri. Bill Diehl was a journalism major; after a career as a journalist and photographer, he began writing novels at the age of 50 and turned out several bestsellers, including Sharkey's Machine and Primal Fear. My father majored in Mechanical Engineering.
My mother, who grew up in Little Rock, Arkansas, and St. Louis, Missouri, was also attending the University of Missouri in the years following the war. My mother's family could trace itself back to the Revolutionary War era. Her parents were both graduates of the University of Kansas, where they had met. My mother's father was an engineer for the Southwestern Bell Telephone Company.
My parents met in a fraternity/sorority mixer. They married on Thanksgiving Day 1950, moved to a suburban town in New Jersey, then another, and had three children — me, my brother Stephen and my sister Susan.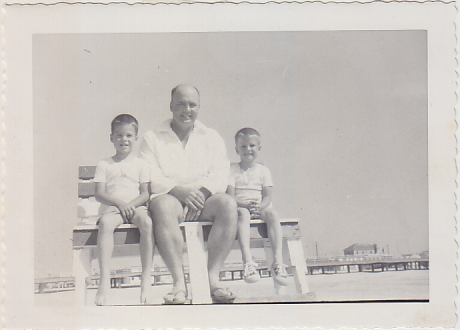 Larry Petzold with his two sons, in Wildwood N.J., early summer, 1960
My father was very skilled in woodworking: He and my grandfather built the garage and patio on the house I grew up in (and where my mother still lives). The garage included a small greenhouse facing the southern sun, and the patio had a built-in picnic table that folded down from the wall and revealed a little cabinet for utensils and condiments. He built a set of "monkey bars" in the backyard for the kids. He turned the basement of the house into a recreation area, including benches along one wall; built-in bookcases; a bar (common in many 1950s suburban homes); a workshop with a combination table saw, lathe, and drill press; and a large fold-down table with a Lionel O-gauge model train set.
He made furniture, including a beautiful zebra wood coffee table in the Swedish Modern style popular at the time. He also made wood-carvings. I can remember him spreading newspapers on the floor surrounding his chair in the living room, and then hacking away at a block of wood with carving tools from a wooden case.
I remember one day he received a little box in the mail containing bars of ivory. (I don't even want to think about where it came from!) He used those for the tusks and eyes of an elephant he was carving. The toes were made from piano keys.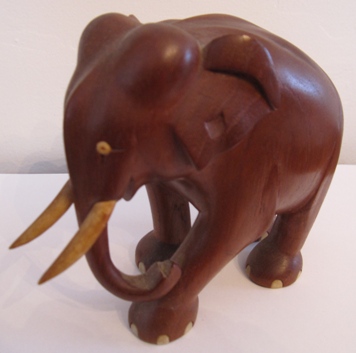 My father was in many ways more adventurous than I'll ever be. He waterskied and rode the parachute jump ride at Coney Island.
He worked at Hercules Powder Company very close to where we lived. Historically the company had made gunpowder, but in the 1950s it was exploring the growing field of plastics. (This was a good decade before "Plastics" is recommended as a career to Benjamin Braddock in the early scenes of The Graduate.) Plastics was the area that my father worked in, and other companies would use Hercules processes to manufacturer plastics.
My father was a troubleshooter, and if one of these plastic-processing machines broke down, he often helped figure out what was wrong with it. He was an engineer. He solved problems. That's what engineers do. Sometimes these machines were in other states, so in the late 1950s he began flying a lot on business trips.
There were some plane crashes in the news at the time, and I remember expressing my concern at the dinner table. In what was undoubtedly my introduction to probability theory, my father carefully explained that it was more likely that he'd be in a car crash travelling to the airport than in a plane crash, and this seemed to make sense to me although it didn't exactly allay my fears.
In December 1960 my father was on a business trip in Chicago. The weather was bad but he telephoned my mother to say that he was going to try to make it back that day. He took United Airlines Flight 826 from O'Hare, a DC-8 that departed at 9:11 on the morning of December 16.
The plane was supposed to land at Idlewild Airport (later renamed Kennedy Airport), but it was off course and at the wrong altitude. At about 10:33 AM it collided above Staten Island with Trans World Airlines Flight 266, a smaller propeller-driven Lockheed Super Constellation en route from Ohio to La Guardia Airport.
Upon collision, the Super Constellation broke into three pieces and crashed in Miller Army Air Station in Staten Island. The DC-8 that my father was on travelled for another 11 miles or so. There was some speculation at the time that the pilot was attempting to land the plane in Prospect Park in Brooklyn, but the plane went down in a residential neighborhood in nearby Park Slope.

The final death toll included all 84 crew and passengers on the half-full Flight 826, all 44 crew and passengers on Flight 266, and 6 people on the ground in Brooklyn, for a total of 134. (The initial Times tally of 127 excludes an 11-year-old boy on the DC-8 who had been thrown clear of the crash but who died the next day.) It was the worst commercial aircraft disaster at the time, and remained so until 1969. It remained the worst disaster in New York City until September 11, 2001.
What I remember most about the days following the crash was the house filling up with people who came over to help my mother deal with things, and my mother taking my brother and me into our bedroom, closing the door, and sitting us down to tell us what had happened.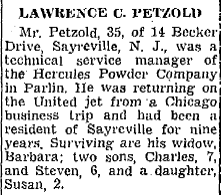 from a list in the NY Times, 12/18/60
The death of a spouse, or a parent, or a child always leaves a scar on a family. Sometimes particularly horrifying and sudden deaths can leave wounds that never quite heal, even after 50 years. Even after 50 years, memories of this plane crash still have to power to deliver pangs of pain to me, my siblings, and to my mother — who has never remarried and lives in the same house, and who displays photographs of the man she was married to for 10 years half a century ago.
For me, I can cite half a dozen aspects of my life that arise directly from this singular event — facets of my personality, my educational and career choices, my religious beliefs, my political leanings. The effect on me was so deep and so profound that I simply can't imagine what my life would have been had my father simply taken a different flight. At times I can even ascribe to the crash an overall positive influence by quoting Nietsche's dictum "What does not destroy me, makes me stronger." But mostly that strength is simply an emotional shield protecting what is still a vivid sense of loss.